Welcome and Study with us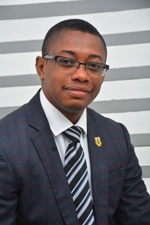 Welcome and Study with Us
Materials and Metallurgical Engineering (MME) provides students with a broad knowledge of developing new materials and/or improving on existing materials with improved performance for diverse applications such as in nanotechnology, aerospace, energy systems, electronics, mining, and medicine. The Metallurgical Engineering program also covers metal extraction from their ores into useful products. Students are trained to utilize their knowledge in physics and chemistry to explore and understand the interplay among processing, structure and properties in metals, ceramics, polymers and composites.
Companies from a wide range of sectors have emphasized the demand for Materials and Metallurgical Engineering graduates. This demand is also evidenced by the high rate of placements of graduates who have taken the Materials and Metallurgical Engineering programs offered by the Kwame Nkrumah University of Science and Technology.
We appreciate your interest in the programs being offered in our Department and we look forward in helping you to experience the core of engineering technology.
                                                                                                                    Prof. Anthony Andrews
                                                                                                                    Head of Department